A Support Group Community for IBS Patients

The IBS Patient Support Group community aims to bring patients together for discussion and advocacy support combined with evidenced-based medical information.
When Irritable Bowel Syndrome was first described by the medical community, it was often described in negative terms with few treatment options. Thanks to research in the  discovery of new treatment options, women and men have begun to have lives improved despite the many quality of life issues related to IBS.
Irritable bowel syndrome (IBS) is a problem that affects the large intestine. It can cause abdominal cramping, bloating, and a change in bowel habits. Some people with the disorder have constipation. Some have diarrhea. Others go back and forth between the two. Although IBS can cause a great deal of discomfort, it does not harm the intestines. Irritable Bowel Syndrome (IBS) and Inflammatory Bowel Disease (IBD) are two very different disorders.
IBS is common. It affects about twice as many women as men (in western culture) and is most often found first diagnosed in people younger than 45 years. No one knows the exact cause of IBS. There is no specific single test for all types of IBS. Your doctor may run tests to be sure you don't have other diseases. These tests may include stool sampling tests, blood tests, and x-rays. Your doctor may also do a test called a sigmoidoscopy or colonoscopy. Most people diagnosed with IBS can control their symptoms with diet, stress management, probiotics, and medication.
According to the Rome IV diagnostic criteria definition of IBS, IBS is identified as one of the Disorders of the Gut-Brain Interaction (DGBIs), formerly known as Functional Gastrointestinal Disorders (FGIDs), with these different varieties based on symptoms:
IBS with predominant constipation (IBS-C)
IBS with predominant diarrhea (IBS-D)
IBS with mixed bowel habits (IBS-M)
IBS unclassified (IBS-U)
Furthermore, each IBS variety can be further classified into mild (40%), moderate (35%) or severe (25%) based on patient-rated severity of symptoms.
IBS may be a lifelong condition. For some people, symptoms are disabling and interfere with work, travel, and social activities. Symptoms often get better with treatment. IBS does not cause permanent harm to the intestines and it does not lead to a serious disease, such as cancer.
Source:
National Institutes of Health (NIH)
Gastroenterology 2016;150:1262–1279
From October 25-30, 2019 the American College of Gastroenterology (ACG) medical conference was held in San Antonio, Texas. We have posted highlights of the research papers and presentations. You can find them here. Read More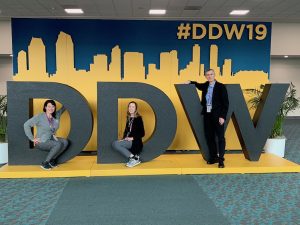 From May 18-21, 2019 we attended the Digestive Disease Week (DDW) medical conference in San Diego as an IBS Patient Advocate. We have posted highlights of the research papers and presentations. Some are technical, but there are some good nuggets of information posted. You can find them all here.

On April 19, 2019, World IBS Day, the IBS Patient Support Group began a new conversation about Irritable Bowel Syndrome. Thousands of people, including leading doctors, engaged in an open discussion about IBS, offering new ideas and hope for those who struggle, with more sufferers every year.
On every April 19th the IBS Patient Support Group is asking you to use the hashtag(s) #WorldIBSDay, #LetsTalkIBS, or #IBSAwarenessDay on all your social platforms. For every tweet, post, #hashtag on April 19th, 10 cents will be donated to supporting research and education for IBS. Use it once, use it often. Together we can raise awareness about Irritable Bowel Syndrome on World IBS Day. Read More
Help shape Advocacy in Irritable Bowel Syndrome.
In April 2019 we will be inviting anyone to participate in an IBS Patient's Advisory Board; a panel of patients and family members interested in helping advocate for all Irritable Bowel Syndrome patients.
The IBS Patient Advisory Board will act as a resource for Healthcare providers and Industry leaders seeking input from a patient panel which represents the true voice of patients living with IBS, as well as family members who support those living with IBS. The Advisory Board will provide unique patient voices about quality of life and living with IBS.
The IBS Patient Support Group is committed to improving the lives of people affected with Irritable Bowel Syndrome by raising public awareness, supporting and encouraging research, and advocating for the needs of patients by spearheading the creation of the IBS Patient Advisory Board. Read More
Jeffrey Roberts and the IBS Patient Support Group have provided in-person testimony to the U.S. Food and Drug Administration (FDA).  The IBS Patient Group has shared the perspective of Irritable Bowel Syndrome (IBS) and other functional GI and motility disorder (FGID) patients with several FDA committees. We bring the patient perspective to committees in the regulatory decision making process so that they can be directly informed as to how decisions affect patients. Read More
Elimination is the Beginning NOT the End
The team at Monash University in Australia, led by Professor Peter Gibson MD, developed the low FODMAP diet. In its strictest sense it is not so much a diet as it is a diagnostic tool for helping to determine whether foods in your diet are involved in contributing to your gastrointestinal symptoms. Some IBS sufferers have unfortunately been using the low FODMAP diet as a forever elimination diet whereas it was designed to be a three phase process. Taking on the three phase diet process by yourself is not recommended. An experienced FODMAP Dietitian is your best ally for using this diet as a diagnostic tool for symptoms.
The FODMAP acronym was coined to classify groups of carbohydrates (sugars and fibers) found in foods and beverages, that are similar. These carbohydrates have been shown to be poorly absorbed in individuals living with digestive sensitivities, including Irritable Bowel Syndrome (IBS), resulting in gastrointestinal symptoms including abdominal pain, bloating and gas, constipation and/or diarrhea. Further research acknowledged that diet could be responsible for IBS symptoms. In turn, limiting dietary FODMAPs has become an effective treatment test in susceptible people, for treating their symptoms of IBS. Read More
Last updated on