The team at Monash University in Australia, led by Professor Peter Gibson, developed the low FODMAP diet. It wasn't until then did they prove that FODMAPs could trigger symptoms of IBS and research acknowledge that diet could be responsible for IBS symptoms. In turn, limiting dietary FODMAPs became an effective treatment for 3 out of 4 people for treating their symptoms of IBS.
The FODMAP acronym was coined to classify groups of carbohydrates (sugars and fibers) found in foods and beverages, that are similar in length and structure. These, "short-chain" carbohydrates have been shown to be poorly absorbed in individuals living with digestive sensitivities, including Irritable Bowel Syndrome (IBS), and resulting in a common set of gastrointestinal symptoms including abdominal pain, bloating and gas, constipation and/or diarrhea.
What exactly does FODMAP stand for?
FODMAP stands for the following:
F – Fermentable – Quickly broken down by bacteria in the gut and produce gas
O – Oligosaccharides (Fructo-and galacto-oligosaccharides) — Found in select vegetables, legumes, fruits, grains, nuts and teas
D – Disaccharides (Lactose) – Found in select milk and milk products
M – Monosaccharides (Fructose) – Found in select fruits, vegetables and sweeteners
A – And
P – Polyols (Sugar Alcohols) – Found in select fruits, vegetables and artificial sweeteners
EXAMPLES OF HIGH FODMAP FOODS*
F is for Fermentable, which applies to all of the foods on the list.
O is for Fructo- and Galacto- Oligosaccharides
Fructo-Oligosaccharides (FOS)

Wheat, barley, rye

Garlic

Onions

Dried fruit

Nectarines

Persimmon

Watermelon

Artichokes

Inulin (Chicory root extract)

Galacto-Oligosaccharides (GOS)

Split peas

Red kidney beans

Black beans

Baked beans

Soybeans

Pistachios

Cashews

D is for Disaccharides (Lactose)
 Milk

Custard

Ice cream

Yogurt

 Buttermilk

Evaporated milk

Milk powder

M is for Monosaccharides (Excess Fructose)
 Apples

Figs

Boysenberries

Mango

Pears

Watermelon

Cherries

 Asparagus

Artichokes

Sugar snap peas

High fructose corn syrup

Honey

Agave

Rum

 And
P is for Polyols (Sugar Alcohols)
 Apples

Apricots

Blackberries

Nectarines

Peaches

Pears

 Cauliflower

Mushrooms

Snow peas

Sugar alcohol additives:

Isomalt, Mannitol, Sorbitol, Maltitol, Xylitol
EXAMPLES OF LOW FODMAP FOODS*
These are low FODMAP in a single serving.
F is for Fermentable – These foods create minimal fermentation.
O is for Fructo- and Galacto- Oligosaccharides (Low FOS and GOS)
 Arugula

Bok choy

Bell peppers

Carrots

Collard greens

Common cabbage

Cucumber

Eggplant

Green beans

Kale

Lettuce

Potato

 Corn/Rice/Quinoa, as well as pasta made of these

Rice, rice cakes

Potato and Tortilla chips

Oats

Polenta

Corn tortilla

Macadamia

Peanuts

Pecans

Walnuts

Chia

Flax

Pumpkin

Sesame

Sunflower seeds

D is for Disaccharides (Low or No Lactose)
 Brie, Colby, Cheddar, Swiss cheese

Goat, Feta, Mozzarella, Parmesan cheese

Lactose-free cottage cheese

Lactose-free yogurt

 Lactose free milk

Almond milk

Coconut milk (canned)

Hemp milk

M is for Monosaccharides (No Excess Fructose)
 Bananas

Blueberries

Cantaloupe

Clementine

Grapes

Honeydew melon

Kiwifruit

 Lemons

Limes

Mandarin

Oranges

Pineapple

Raspberries

Strawberries

And
P is for Polyols (Low or No Sugar Alcohols)
 Bananas

Blueberries

Cantaloupe

Clementines

Grapes

Honeydew

Lemons

Limes

 Oranges

Pineapple

Strawberries

Table sugar

Glucose

Maple Syrup

Sucralose

Stevia
* Note this list is not all-inclusive.
The Monash Low FODMAP Smartphone app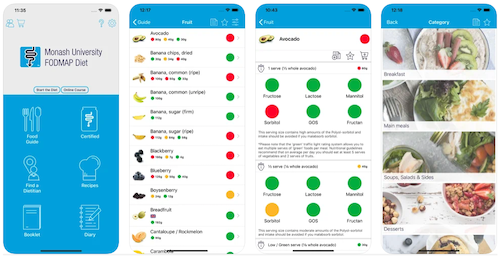 Monash University, Medicine Nursing and Health Sciences has created an up-to-date smartphone app which maintains a current list of FODMAP containing foods. It will provide the most current information of FODMAP.
We maintain a FODMAP Registered Dietitian Registry who can help patients administer the low FODMAP diet.
Medical Foods
A medical food is specially formulated to be consumed or administered enterally (orally) under the supervision of a physician. Medical foods are intended for specific dietary management of a disease or condition for which distinctive nutritional requirements, based on recognized scientific principles, are established by medical evaluation. There are several medical foods that are used for treating IBS.
Source(s):
LowFODMAPcentral.com
Monash University, Medicine Nursing and Health Sciences
Last updated on Jan 31, 2023