Digestive Disease Week, or DDW, is one of the top 50 medical meetings in the world, and the largest gathering of medical researchers and industry leaders in the fields of gastroenterology, hepatology, endoscopy and gastrointestinal surgery.
2020:
In 2020 DDW, from May 2-5 in Chicago, was cancelled due to COVID-19, and was made into a virtual event with scientific abstracts and ePosters made available online to all attendees. Highlights of the research papers and presentations can be found here.
2019: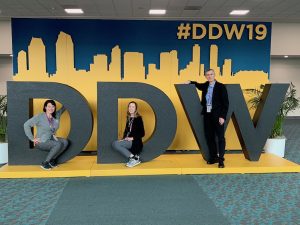 From May 18-21, 2019 we attended the Digestive Disease Week (DDW) medical conference in San Diego as an IBS Patient Advocate. We have posted highlights of the research papers and presentations. Some are technical, but there are some good nuggets of information posted. You can find them all here.
Last updated on Jul 13, 2021